SAK Group is Pakistan's largest timber people company.
In order to cater with our customers requirement we have our own two sawmills in Karachi Timber Market area. Apart from sawmills we have biggest numbers of warehouses covering a large area where we stock our lumbers and also logs (ready to cut).
Similarly, for storage of logs we have our own facility at Karachi Timber Pond since 1960s years. This log storage facility is the biggest of its kind at Karachi Timber Pond.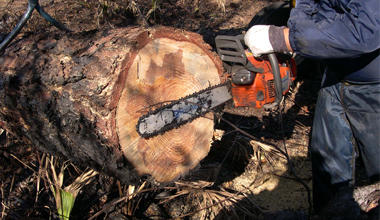 Subsidairy Companies
Khalid Trading Company
Similar to our parent company, Saleh Muhammad A. Karim, Khalid Trading Company is specialized in imports of Medium Light Harwood, and Myanmar (Burma) Teak round logs.
Hasham Impex
A company within the SAK Group especially formed for imports of hardwood lumbers from Europe and North America.
The major hardwoods imports by Hasham are Beech from France, White Ash, Red Oak, Walnut, and Cherry from North America and various African species such as Sapelli, Iroko and Wenge etc.
Hasham Impex is also responsible for imports of European and North American hardwood logs.
Sarim Trade International
Sarim Trade International is one of the youngest companies within SAk Group. It was formed primarily to import items other than lumber and logs. STI specializes in various products like WPC wall panels and floor decking, PVC Edge Banding, Door Skin, Softboard, UV MDF, and Laminate Flooring. Majority of these items are imported from our oldest and trusted suppliers from China.
Subhan Traders
Subhan Traders is the youngest company within the group. It is responsible for imports of engineered wood products like sanded and laminated MDF from Malaysia, Thailand and Sri Lanka and also fancy plywood from China and Malaysia.
Associate Companies
Sunlight Wood Products (Pvt.) Ltd.
Sunlight Wood is Pakistan's leading and the largest woodworking company producing plywood, particleboard, high pressure laminates, short cycle lamination, hardboard, MDF, doorskin, and direct printing board.
Sunlight is the first and only woodworking company in Pakistan having it's own self power generation facility of 8MW. Sunlight Wood Products is also Pakistan's first woodworking company who has hired European technology consultants for plant installation, quality control and plant upgrades. These foreign consultants are now valuable assets of Sunlight's workforce since last 14 years.
For further information on Sunlight Wood please visit www.sunlightwood.net.pk
Sindh High Pressure Laminates (Pvt.) Ltd. (SHPL)
Sindh High Pressure is a subsidiary company of Sunlightwood and involved in massive manufacturing of high pressure laminates (Formica) and short cycle lamination on chipboard and MDF.
Standard Board (Pvt.) Ltd.
Similar to SHPL, Standard Board is also a subsidiary company of Sunlightwood. Standard Board is a manufacturing unit involved in production of glue for supply to Sunlightwood and SHPL. Apart from Glue, Standard Board also produces quality melamine moulding compound for local melamine production and one of the best Hardboard available in Pakistan.